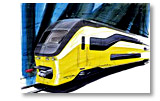 If form follows function, then it is particularly true of trains. Their role in our daily mobility scenario is rigid and rational and modern-day railway aficionados no longer indulge in the nostalgic romance of trains as they used to decades ago. It also follows that, apart from a few clear exceptions, train design has never existed in the way we are familiar with in the car world.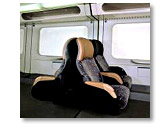 When Raymond Loewy designed the Pennsylvania Railroad steam engines during the thirties and, later, the same company's electric locomotives, his efforts strongly influenced corporate identity. Sir Nigel Gresley's streamlined 'Mallard' was penned with a good sense for aesthetic beauty as were Ettore Bugatti's pre-war 'Royale' multi-engined trains. In the late sixties, Japan's renowned 'Shinkansen', the bullet train, was more than a functional aerodynamic device, and, more recently, the French TGV declared a new identity for the future of Europe's rail travel.
It is in this respect that the latest double-decker trains of the Dutch Railway's 'Nederlandse Spoorwegen' mark another milestone in train design in that the aesthetics result from an innovative and lean design process thus far unique in railway circles. Nederlandse Spoorwegen (NS) have a long-standing design tradition. In the early 1930s, they were the first European railway company to operate a large fleet of streamlined electric (EMU) and diesel (DMU) multiple trains. And with Holland's architectural and industrial-design heritage, it is obvious that each new generation of rolling stock emerged with a new and recognisable 'face'. Raymond Loewy once praised NS for their exterior design efforts. But Niels Greif and Harry Reijnders, respectively NS's industrial-design and art consultant and corporate architect, reveal that even Dutch train builders never considered design a major ingredient in future rolling stock.
Again, it was form that had to follow function, albeit with a touch of artistic freedom for those architects working in close relationship with 'Werkspoor', the train manufacturer. "If a project book was compiled it could amount to 600 pages, with just half a page given over to design. Yet we were always able to add something special."
The reference to the typical 'dog's head' trains is clear, which ruled Dutch tracks ever since their first appearance in 1954, followed by the current Intercity stock with high drivers' cabs, a configuration that allows passengers to walk through when another train is coupled on.
Design awareness grew during the early seventies when the yellow and blue NS house style emerged and parts of the new short-haul commuter trains were specially designed.
"But Raymond Loewy's interior proposals were considered too advanced," Greif remembers, who says that traditional train concepts were built up around externally supplied elements, such as seats, and then inserted into the technical structure. And the design and development process usually took several years from first sketch to prototypes and final series production. "But in 1990, NS were facedwith a strong demand for new rolling stock. Hence there was no time to design and develop along traditional lines," Grieff continues. Production start-up of a large series (over 150) of medium-haul 'Regio Runners' (3- or 4-carriage double-decker EMUs) had to be achieved within four years. While the engineering concept was being laid down, NS's own design department took the initiative for an extensive brainstorming session early in 1991.
Under Ab Kleingeld, innovation and product-development manager at the T.N.O. institute in Delft (who was later that year appointed chief of NS design until 1996), a 28-strong team of engineers and product planners, including four designers (but not a single NS director), met to discuss solutions for a quick realisation of the required trains. Problems ranged from seating layout, packaging and ergonomics to daylight intrusion and practicality for routine cleaning. "Reciprocal contacts developed in record time and motivated the necessary team spirit. Those who had ideas but couldn't draw made primitive sketches that were worked on by the 3D designers of the NS design department," says Greif who was the design project leader. He says the up and coming NS marketing department showed great interest and gave a lot of support.
The article continues in Auto & Design no. 106