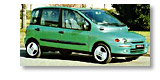 "How to comfortably accommodate six people and their relative belongings in a car less than four metres long? "The challenge had been fired at the Fiat designers by Paolo Cantarella – at the time managing director of Fiat Auto, these days of the entire Fiat Goup – while the in-house style centre was working on a by then advanced stage of the Bravo/Brava project. The task, which had to spawn a concept car to present at an international motor show, was assigned to the Innovations section (under the responsibility of Giuseppe Piritore and, later, Luigi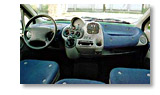 Merlini) with the collaboration of the Turin company's Advanced Design, led by Ermanno Cressoni.
Various hypotheses were culled from the rich series of initial sketches, each personified with its own name: Big Boy, the first, followed by Jet 6, Gianduiotto and Toro. Roberto Giolito was named project manager, while Peter Jansen took charge of interior design. Mauro Basso contributed at the initial exterior stage.
"As we gradually progressed with the research," recalls Nevio Di Giusto, head of Style/Design, Innovations and Ergonomics for the Fiat brands, "the concept seemed more and more interesting, enough to have us conjecturing the birth of a volume product." Thus typically show-car elements were abandoned in order to elaborate a justifiable proposal in terms of feasibility and, once the package was defined, create a dedicated platform.
At the start, the project assumed a 2+2+2 type interior configuration. But it soon became clear that this layout was unable to respond to the precise demands of the brief: "The inevitable result was a tall, narrow vehicle with a short nose, unhelpful for accommodating the engine and the crumple zone, while with the 6 seats in use, the boot ended up seriously compromised and had rather an irregular shape," explains Giuseppe Piritore, responsible for the Multipla platform, which he currently manages along with the A-segment car platform.
The real turnaround came with the move to the 3+3 configuration, for which a dedicated platform with a high strength space-frame type box-steel structure was created. The stylistic choices were entirely motivated by functional reasons, as the photos and drawings on these pages demonstrate. The concept of the minimally supported roof, with almost perpendicular side and rear glazing so as to exploit interior space, came from Nevio Di Giusto. Everything is multi on the Multipla, even the viewpoints the project can be observed from.
Over and above the significance of the development process, the car must be assessed in terms of the industrial product concept. "It's important to emphasise that with the Multipla we didn't apply a platform carry-over concept, as usually happens, but a sub-system carry-over," explains Di Giusto. The build technology employed allows for extreme flexibility whether in terms of units produced or any eventual modularity of the vehicle, and at competitive costs. "During the development of the concept, we wanted to keep the paths open for further evolutions."
The article continues in Auto & Design no. 101