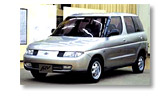 From specialist producer of off-road and commercial vehicles, Korean company Asia Motors – a member of the Kia group – has decided to extend its own-brand production to passenger cars too. Spokesman for this development is the ARV, a concept car shown at Seoul and now close to the transformation into running prototype. For the design of the ARV – which stands for Asia Motors' Recreational Vehicle – the Koreans turned to Stile Bertone, with whom they have a working relationship of several years' standing: "We presented Bertone with a very precise brief," explains Won Chul Cho, the Asia Motors chief designer who led the project.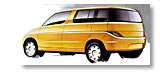 "We wanted a new sport-utility concept that was versatile and functional, compact but roomy inside, and enjoyable to use."
As base for the new car, the floorpan came from the Kia Pride (a model built by Asia Motors at its Kwangju plant), lengthened by 50 mm to achieve a wheelbase of 2395 mm and favour available space within the five-seat passenger compartment. Project investment was carefully calculated and the development times brief: "After the primary sketches, which we roughed out in August last year, we started working at Bertone the following September and the definitive model was ready by February this year," says Won Chul Cho.
"We conceived six solutions visualised in renderings, each with several styling variations," explains Eugenio Pagliano of Stile Bertone. Two 1:4 scale models were made of the chosen orientation, from which the 1:1 definitive model derived. The stylistic handwriting of Bertone is clearly evident in the simple, no-nonsense forms of the two-volume bodywork, especially in the treatment of the rear end and the indent that scores the flank, departing from the headlight, and cuts across the taillight. Both lighting units have large dimensions.
The interior presents a good-looking dashboard design and comfortably accommodating modular seats that, in a custom much appreciated by oriental customers,can be folded completely flat to form a single large 'bed' inside the cabin. It offers a high-level driving position: "A very important element in the perception of the product," says Pagliano. "To my mind, this kind of vehicle represents the utility car of the future, where available space is considered differently – more functional, yes, but not just practical, rich in details and content, too." On the outside, the ARV is 3880 mm long, 1620 mm wide and 1590 mm high. The project also envisages a smaller version, codenamed the KRV, that employs a large number of components from the model shown at Seoul, including the two doors on each side.
"The target group includes all those who lead an active life, young people, women and middle-aged customers who want a dynamic vehicle with aesthetic character and an image of safety," concludes Won Chul Cho.
The article continues in Auto & Design no. 105