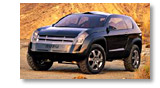 The nice thing about cars is how they always manage to look in new directions, successfully shuffling off the driving forces of a given historic period, fashions, or the need to satisfy new demand.
Observe what is happening today: we are at the height of a period of research into maximum versatility, practically a process of the 'globalisation' of specifications: the saloon is also a coupé, the de luxe estate car flirts with the light off-roader, the new generation of MPVs successfully resolves the demand for a reduced footprint with interior spaciousness and comfort, and the sport-utility claims to be car, off-roader, goods transport and a vehicle for work and leisure.
And yet, in the midst of this frenetic search for multiple values, there is still room for all-out specialisation in a dimension where everything aims for the top of a given sector and distractions are not allowed. The examples, in this sense, come from both production and research. Pertaining to the latter area is the VX2 off-roader study presented by Isuzu at the 32nd edition of the Tokyo Motor Show.
As the people from the Japanese company point out, this is not purely an exercise, but a proposal that will be used to define the successor to the VehiCROSS, destined to enter production by the year 2000. Its development was handled by the design office of Isuzu Motors Europe, ITCE-Design in Birmingham, and taken care of outside and in by a team of three designers led by thirty-eight year old Simon Cox, and comprising Julian Wiltshire (32) and Joseph Baker (24).
Atsuhiko Yamada looked after the financial and administrative aspects of the project. The research and development work was completed in nine months, starting out with a clear theme: to emphasise the more 'technical' as well as the tough and aggressive aspects of the VehiCROSS.
The article continues in Auto & Design no. 108