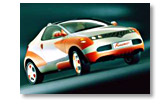 When Toyota showed its three refreshing concept studies at the last Frankfurt Motor Show, nobody outside Toyota realised how close at least one of them was to the eventual NBC production car. This is the small car that will be made in Toyota's Valenciennes factory in northern France from 1999.
At the time when John McLeod began working on 'Funtime', 'Funcargo' and 'Funcoupé', it was not even clear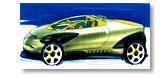 whether that car would be produced in Europe. But that did not affect his dedication to the project, which could well prove to be the foundation of a unique European design identity for Toyota.
A graduate of Coventry's Lanchester Polytechnic in 1988, McLeod began working at EPOC, Toyota's Brussels-based European studio, in 1993. He first contributed to the Avensis project, but soon got involved on the new supermini project, which Toyota had serious European plans for, without knowing how or where such a car would be built.
But that is a different subject in a different context, for McLeod's story is all about the 'Fun' cars and their artistic roots. "When we started thinking about the 'Fun' project in February 1996, we had already been working on a small-car concept for the European market since 1994," McLeod says.
"We knew we could use the architecture and the hard points, including the scuttle, of the small car, which had been decided on by then. The wheelbase would be a bit longer than the Starlet at 2,400 mm, with 90 mm more height but the Funtime would be slightly shorter overall at 3,610mm. Our aim was to develop something for younger people, something exciting. We studied a lot of ideas, some of which were really futuristic, and as a result achieved a good compromise between advanced design and what was to become the small car we were looking for. We were left completely free and were even able to decide the kind of packaging we wanted. And it was a great help that we could work out the whole process from our own Brussels studio without time-consuming protocols."
The article continues in Auto & Design no. 108