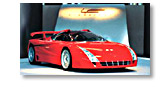 A captivating, very red, 'form'. And a badge that communicates with abbreviated clarity: F100. The letter F stands for Fioravanti and 100 years have passed since the birth of Enzo Ferrari.
"My passion for Ferrari," explains Leonardo Fioravanti, owner of Fioravanti srl. "is overwhelming. For 25 years, I lived and breathed Ferrari, designing so many models and developing a truly special relationship with the boss. He was all of those Ferraris. Something perhaps unique in the world".
Hence the idea of using a car – and more specifically, a very high performance Gran Turismo – to commemorate the man. A singular initiative within the broad spectrum of the centenary celebrations organised for this year, which has received ample consensus – from the top Ferrari people to begin with, but also from the visitors to the Turin show, where the F100 was previewed.
"Some help," says Fioravanti, "also came by chance: given the fondness and respect that bonds me to Maranello, I wanted to wait until the new range was complete before presenting a Ferrari study.
And, as it happens, it has coincided with the centenary of the birth of Enzo Ferrari." So lo and behold the F100: 4.4 metres long, 1.9 wide, 1.14 tall. Emotional, aggressive and also very innovative. As is well known, Fioravanti designs are not just for looking at, but require a deeper analysis aimed at revealing the technical content. Which is always substantial.
The F100 puts aerodynamics into the foreground, setting itself the target of optimising the lift quotient (the Cl). Moreover, it actively seeks a relaxed and gratifying driving experience and introduces some interesting explorations into the world of componentry.
The article continues in Auto & Design no. 110