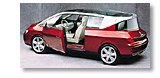 For all of us who take an interest in design, the creation of a new concept is the biggest of all thrills. Now Renault does it again, gladdening our hearts with yet another significant innovation in the form of the Avantime, the world's first "coupéspace".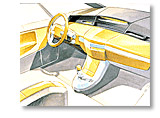 In February Renault invited the world's press to the launch of a new concept car: the Avantime, with a point close to the Louvre as its deeply symbolic venue. The idea behind the development of the Avantime was a simple one; Renault's intention was to cross-breed two species that appeared to have nothing in common: the MPV and the coupé.
That idea emerged among the management of Renault's Design Industriel in the Spring of 1998, and Matra was involved right from the start since it was intended to be the manufacturer as soon as the new model was finalised. We all know of course that Matra will not be making the new generation Renault Espace because it simply doesn't have the output capacity.
Once the decision was taken they moved fast. Thierry Métroz took no time at all to produce the sketches that set the tone and outlined the approach. Similarly, Stephane Jardin quickly came up with the design of the interior, his very first project. The first sketches were completed in May 1998, shortly after the design for the Vel Satis concept car was frozen. And that is no coincidence.
Long before it faced public scrutiny, the Vel Satis had been viewed by its creators as the model for the styling of future Renault range-toppers. On that basis, the lines of the Avantime emerged in logical progression from the moment pencil hit paper. The front was given a distinctly MPV look, its roof extended by the windscreen.
At the rear as on the Vel Satis the rear window was set vertical, while the line of the boot announces a change of direction. In fact whereas the Vel Satis boot was rounded, the Avantime version is more structured and angular. Indeed the overall look of the Avantime is clean-cut and decisive, its planes tautly outlined to create an attractive play of light over the surface. That same mood is gracefully evoked on the front section where the bulbous shapes of the bonnet and radiator grille are highlighted by sharp corners.
The waistline is perfectly horizontal to create a balanced look in profile and allow the car to sit sturdily on the road. This is light years away from the cone shape we have been seeing on grand tourers for decades and it endows the GT concept with a unique blend of panache and respectability.
The article continues in Auto & Design no. 115