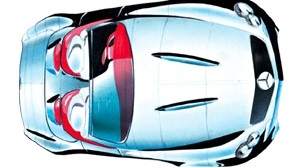 The new Mercedes-Benz SL is a bridge between the brand's past and future, its design making explicit reference to a historic sports car from Mercedes' glorious past, the gull-winged SL 300. This is not retro design, though.
This year's SL is no carbon copy of its illustrious forebear, but revives its spirit in the light of contemporary Mercedes-Benz styling cues.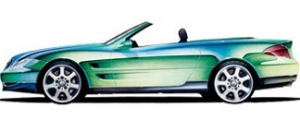 The headlamp whose two ellipses melt into a single profile; its bladed radiator grille, the triangular rear lighting cluster that wraps round the corners of the tail end; the door mirrors that incorporate the direction indicators: these are all unmistakable features of the current Mercedes range. But the designers of the new SL have also slotted in a quotation or two from the past: the ventilation slits in the front wing; the two air vents on the bonnet; a hint of old style instrument dials on the dashboard.

Aesthetic heritage apart, one of the key elements of the R230 project, as they called it, was the roof opening system. The Vario system that made such a successful debut on the SLK in 1996 has been further improved for the SL. The designers in fact have created two cars in one. "With the roof up, we didn't want it to look like a compromise, but like an attractive, perfectly proportioned coupé or grand tourer. At the same time with the top down we wanted it to flaunt all the character of a true sports car", explains Mercedes-Benz's director of design, Peter Pfeiffer
The SL has been designed for a variety of markets, the most important of which is North America. That explains why the concept phase was entrusted to an international team at the Mercedes-Benz Advanced Design Centre in Irvine, California.
The article continues in Auto & Design no. 130
[images picture_size="fixed" hover_type="none" autoplay="no" columns="5″ column_spacing="13″ scroll_items="" show_nav="yes" mouse_scroll="no" border="yes" lightbox="yes" class="" id=""][image link="" linktarget="_self" image="" alt=""][/images]