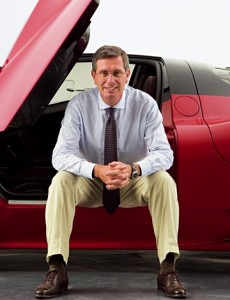 It is nothing short of a tragedy – a devastating loss for the family and a staggering blow to the illustrious coachbuilding dynasty. This is a trauma for the entire company, which was already struggling to survive the most difficult period in its history – a critical period for the entire Italian coachbuilding industry, of which Pininfarina is the final bastion.
The dramatic death of Andrea Pininfarina, chairman and chief executive of the company and the victim of a fatal accident one morning in early August, just a few hundred metres from the Research Centre in Cambiano, is also a serious loss for the whole automotive world, as Pininfarina has contributed so much to the aesthetic and formal evolution of the industry, and Andrea himself was committed to the continuance of this evolution.
A young, determined entrepreneur and a public man with outstanding intellectual and moral qualities, he was universally respected and liked, especially in his native city, Turin, as demonstrated by the widespread grief elicited by his sudden end.
Fifty-one years old, an engineering graduate, married to Cristina Pellion di Persano and the father of three children – Benedetta, Sergio and Luca – Andrea Pininfarina was brought up in the memory of his grandfather, the brilliant coachbuilder and strong-willed Pinin, and learnt his managerial and creative skills from his father Sergio, from whom, in addition to a dedication to his work and family, he also inherited his sense of public responsibility.
It was evident that the key factors in defining his character – as both a manager of the family business and a political and industrial figure – were the iron will of his grandfather and the example set by his father, who successfully reconciled enlightened industrial vision with the fervid imagination of the designers.
Andrea took over full management of Pininfarina at the company's most critical time as an industrial entity. He believed wholeheartedly in the company's importance as an industrial concern and fought doggedly to preserve it.
His project to revitalise the company, to break free of the bleak products of the recent global automotive crisis and escape the rapid demise of the Italian coachbuilding industry, was the final product of his determination. This was his great dream, a dream he saw beginning to take shape, but which he will never see come to hard-earned fruition. His legacy will live on for all of us, however, indelible memories of a number of cars and studies in which he demonstrated remarkable skills as a designer, which so many had doubted at the beginning of his career, forgetting that a flair for design is an intrinsic part of the Pininfarina family heritage.
The article continues in Auto & Design no. 172