Lightweight design, visual freshness and formal purity are the key characteristics of the MILA Blue, the latest addition to the Magna stable and the seventh technologically pioneering concept car in the MILA family.
The car presented at Geneva is the product of a concerted project between Magna Steyr, which created the design and lightweight engineering concept, and other Magna groups, which developed and supplied diverse innovative components. "MILA Blue is not just an important project for Magna Steyr Design, but for the entire Magna group – explains Andreas Wolfsgruber, Chief Designer of Magna Steyr – because it is through creative projects like this that we can demonstrate our design, engineering and production capabilities."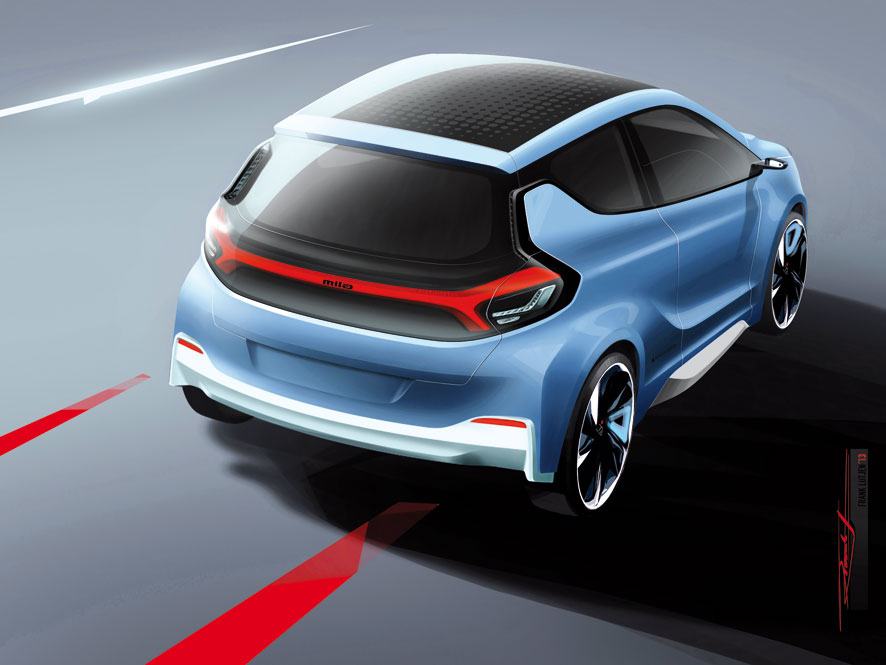 Ecological and always connected – to cater for today's young, dynamic user – this four-seater A-segment car combines compact dimensions (just 3.7 metres in length) with extraordinary lightness (with a kerb weight of 670 kg) and a natural gas fuelled engine for very low environmental impact.
"MILA Blue draws inspiration from sleek, fast vehicles such as catamarans, and combines futuristic design with a new construction method that makes it possible to achieve a considerably lighter end product than with today's standards", continues Wolfsgruber.
The initial and predominantly conceptual stage in the project involved the entire design team. This was followed by the definitive brief, calling for the development of a fun, chic car around a predefined package derived from the previous concepts, assigned to the designer Frank Luetjen.
After an initial design stage, the key characteristics of the new car were applied to a 1:4 scale model to evaluate proportions and volumes. "The concept of aerodynamics was one of my major sources of inspiration – says Luetjen – and input from our aerodynamics experts was very important for the development of the car." Senior designer Tim Doherty, senior digital modeller Mike Storey and visual designer Birgit Gether worked alongside Frank Luetjen during this second stage in the project and throughout its subsequent progress up to the fabrication of the show car.
Aesthetically, the car expresses a bold personality. At the front are slanted headlamps, giving the car a friendly face, while the air intakes above the chin spoiler accentuate the aerodynamic theme. The strongest feature, which conveys the freshness and lightness of the design, is the matte white fascia panel replacing the front grille. The side view is sleek and sculpted, with interesting details such as cameras instead of rear view mirrors and a visual gap in the C-pillar, where the colour of the bodywork – a light blue chosen to reflect the ecological powertrain – is intersected by a dark strip to create a floating roof effect. The design of the tail, on the other hand, is predominated by the large glazed area of the rear screen, with the lower edge delimited by a light strip linking the taillights.
The article continues in Auto & Design no. 206