With "Generation EQ", Mercedes‑Benz shows how electric cars can soon move into the fast lane: the concept vehicle, with the appearance of a sporty SUV coupé, gives a preview of a new generation of vehicles with battery-electric drives. The dynamic exterior design with its new electro-look underlines the focus on the powerful electric drive system: two electric motors, with a system output that can be increased to up to 300 kW thanks to scalable battery components, and permanent all-wheel drive deliver the guarantee of dynamic high-level performance. With a range of up to 500 kilometres and the typical Mercedes strengths of safety, comfort, functionality and connectivity, "Generation EQ" meets every demand in terms of contemporary, sustainable mobility.
Also on the inside, the vehicle offers innovative solutions, including a completely new interior concept. Celebrating its world premiere at the Paris Motor Show, "Generation EQ" is the forerunner of Mercedes-Benz's new product brand for electric mobility, EQ. The name EQ stands for "Electric Intelligence" and is derived from the Mercedes-Benz brand values of "Emotion and Intelligence".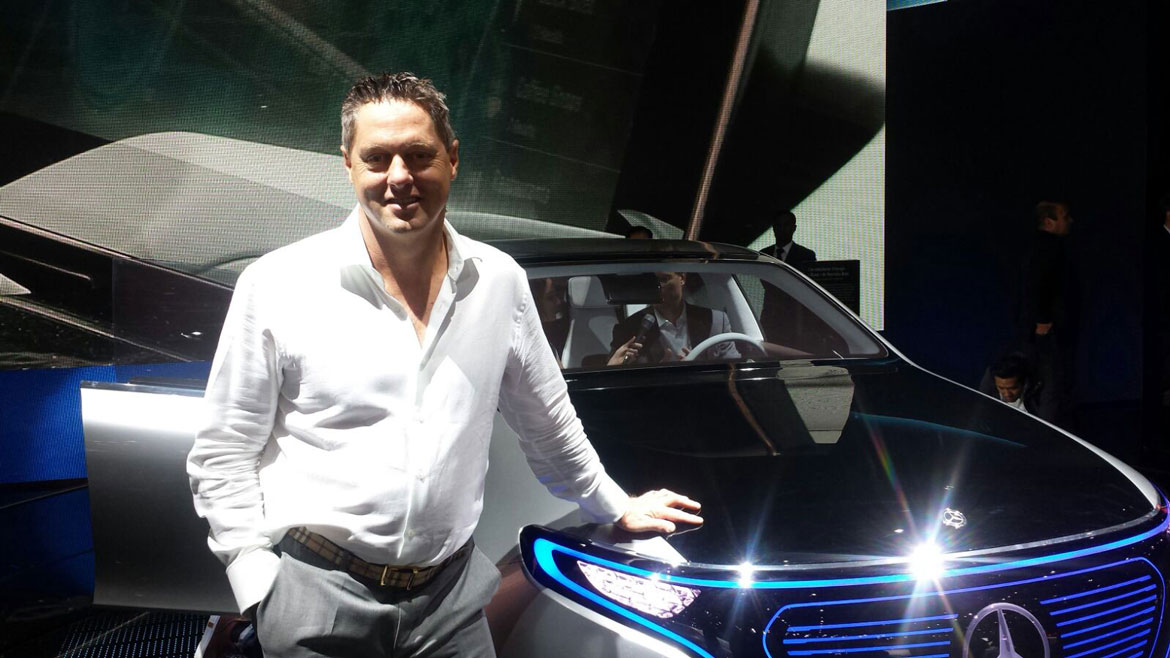 "Generation EQ is hot and cool," says Gorden Wagener, Head of Design at Daimler AG. "Its fascination lies in a reinterpretation of our design philosophy of sensual purity, the aim being to create an avant-garde, contemporary and distinctive electro-look. At the same time, the design of the visionary show car, which has been reduced to the essentials, reveals an alluring progressivity."
The monolithic basic form of "Generation EQ" unites the genes of an SUV with the dynamic character of a coupé and a dash of shooting brake at the rear end. The squat, elongated greenhouse gives rise to muscular-purist proportions. The new electro-look is the result of a flowing transition from the gleaming black bonnet across the windscreen to the dark-tinted panoramic roof – an exciting contrast to the alubeam silver paintwork.
Scarcely visible body panel joins, concealed windscreen wipers, cameras instead of exterior mirrors and an absence of conventional door handles emphasise the stretched, dynamic silhouette, making the SUV crossover appear as a unified whole while reducing its air resistance. An intentionally reduced side view, broad shoulders and large 21-inch light-alloy wheels make for a dynamic presence even before the vehicle moves off.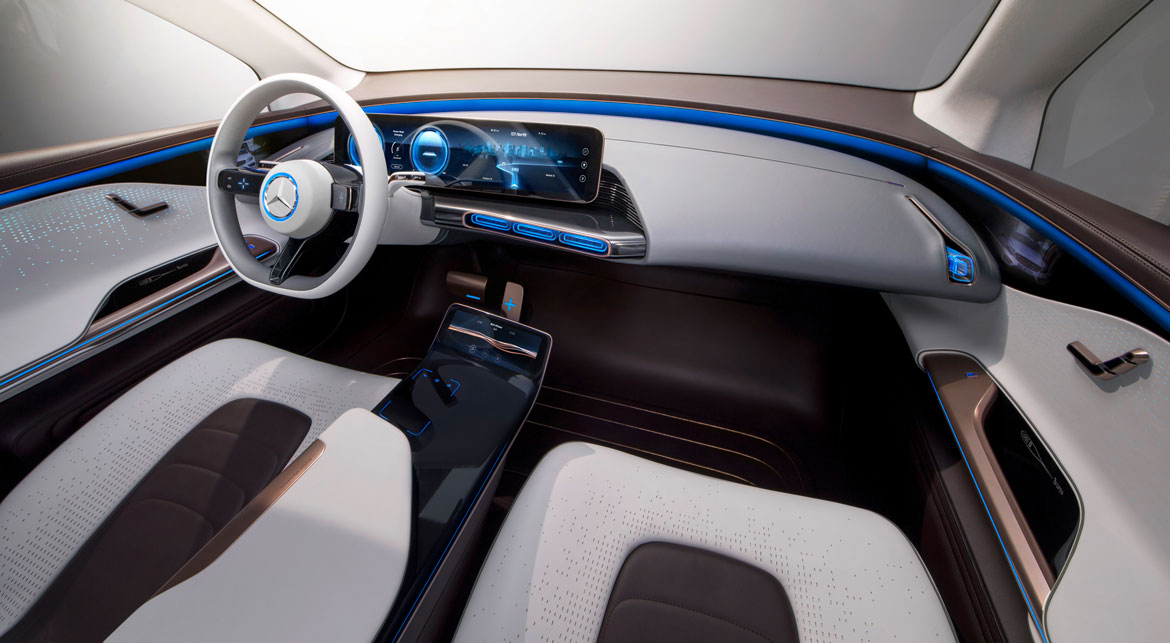 The focus of the driver-oriented cockpit is on simple, touch-based controls with a new electro-look consistently reflecting the exterior styling. The asymmetrical design of the instrument panel with its large, floating wide-screen display is tailored to the driver. The innovative, digital user experience differentiates "Generation EQ" from the familiar control logic in today's vehicles, while giving a peek into the future of user interaction at Mercedes‑Benz.
"Generation EQ" brings together the latest-generation charging technologies. The vehicle is ready both for charging at home by induction or wallbox and for fast charging.