The Ferrari Design Centre, directed by Flavio Manzoni, penned Ferrari Portofino as an aggressively-styled car with a two-box fastback configuration – unprecedented in a coupé-convertible with a retractable hard top – that adds extra sleekness to its silhouette, lending it a sportier character without impinging on its elegance and dynamism. Close collaboration between the Aerodynamics department and Ferrari Design has ensured maximum efficiency in the development of the surface treatment. Starting with the front, the form of the large radiator grille opening, that stretches from edge to edge of the carefully contoured nose, is underscored by a new full-LED headlight assembly with a more horizontal shape.
The outside edge of the headlight hides an innovative air intake which vents into the front wheelarch and exits along the flank to reduce drag. The tail design underlines the car's sporty stance which has been further enhanced by placing the tail lights futher apart. This elegant solution cleverly conceals the rear volume housing the all-new RHT which features a more lightweight design and can be raised or lowered at low speeds.
The Ferrari Portofino is the new V8 GT set to dominate its segment thanks to a perfect combination of sportiness, elegance and on board comfort. Ferrari has chosen a particularly evocative moniker for this exceptionally versatile drop-top car, referencing one of Italy's most beautiful towns. Portofino is renowned for its charming tourist port and, over the years, has become internationally synonymous with elegance, sportiness and understated luxury. The launch colour of the new Ferrari has also been dedicated to this marvellous town: Rosso Portofino. Capable of unleashing a massive 600 cv and sprinting from 0 to 100 km/h in just 3.5 seconds, the Ferrari Portofino is the most powerful convertible to combine the advantages of a retractable hard top, a roomy boot and generous cockpit space plus two rear seats suitable for short trips.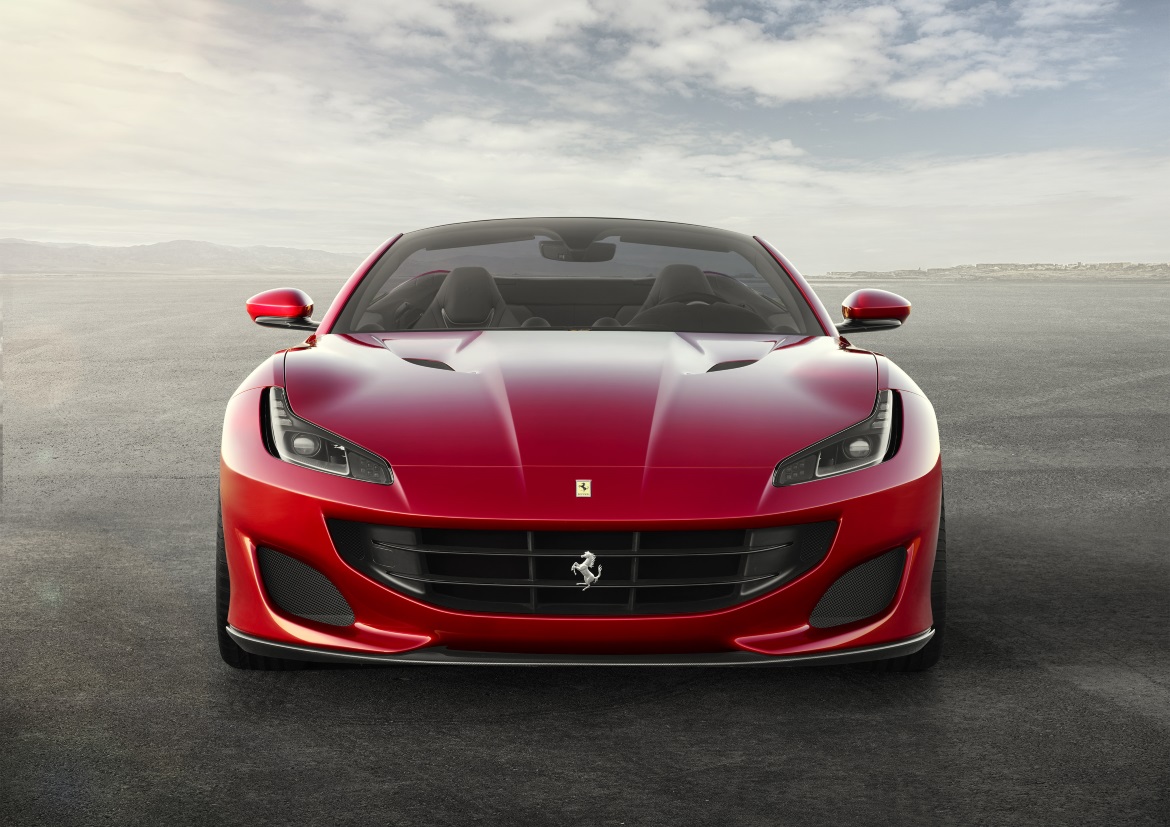 There was also a particular focus on board comfort which is guaranteed by a slew of new features, not least an infotainment system with 10.2" touchscreen display, a new air-conditioning system that improves occupant comfort both with the top up or down, a new steering wheel, 18-way electrically adjustable seats with a new backrest design that boosts legroom for rear seat passengers, and the passenger display. All occupants will particularly appreciate the new wind deflector which, when the top is dropped, cuts air flow inside the cabin by 30% and also reduces aerodynamic noise.