Genesis unveiled its groundbreaking Essentia Concept at the New York International Auto Show. The all-electric, high-performance concept elevates and reimagines the "Athletic Elegance" design paradigm, while providing a vision of future Genesis product performance and technology.
"The Genesis Essentia concept defines our vision for an electric Gran Turismo that integrates Athletic Elegance and Genesis DNA as defining parameters," said Executive Vice President Luc Donckerwolke, Head of Genesis Design. "A Gran Turismo typology highlights our ambition as a luxurious car brand for the connoisseurs and it is the perfect base to project our DNA in the future."
Throughout the design, the philosophy of "Athletic Elegance" has a prominent role, marrying power and precision through artistry. Essentia takes its inspiration from iconic Gran Turismo proportions, with a long bonnet and a swept-back cabin. Finished in Stardust Gray Metallic, the carbon fiber-bodied Essentia is positioned low to the ground intentionally, to make it instantly recognizable through a graceful silhouette.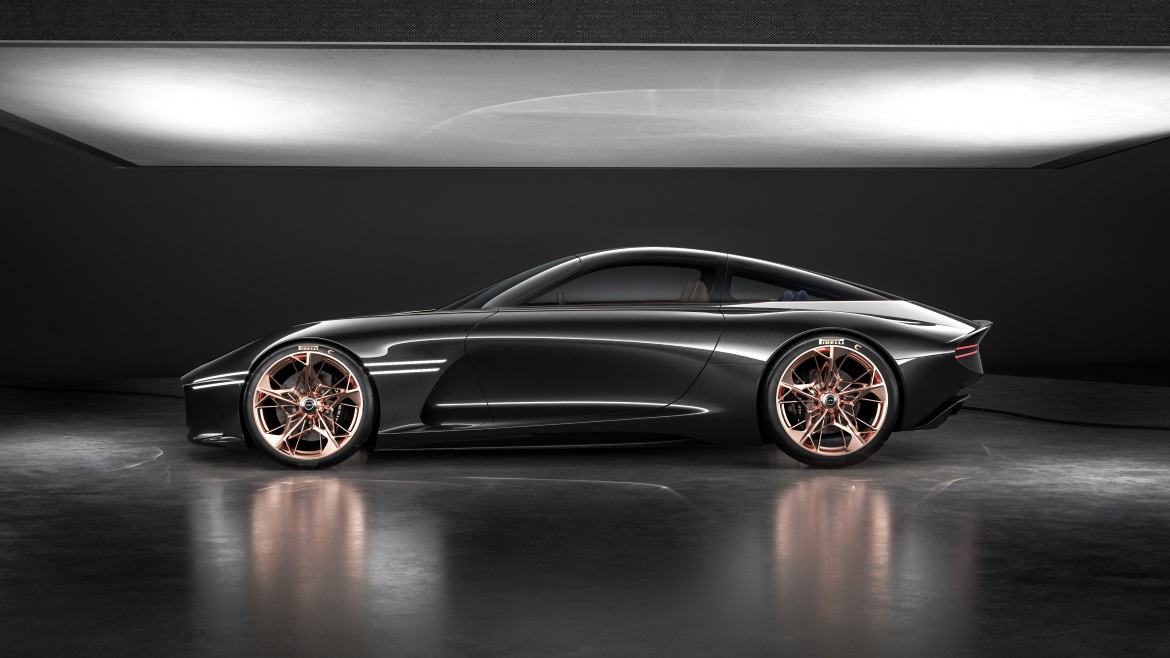 Its front fascia introduces an evolution of the Genesis Crest Grille that highlights efficiency and aerodynamics. Visible through the transparent hood is the advanced carbon fiber chassis, pronounced formula car-style nose cone, as well as the exposed, pushrod suspension. The rear of Essentia is defined by an aerodynamic cut-off surface that houses the flush rear Quad Lights and emphasizes the muscles of the rear haunch. An elegant rear diffuser surrounded by carbon fiber acts as a clever, integrated venting solution for the rear wheel arch.
The interior of Essentia utilizes a mixed-material approach influenced by high fashion and classic color combinations. Cognac leather seats with herringbone quilting envelops the driver and passengers in true cockpit fashion. A slim center console covered in Oxford Blue leather bisects the cabin. Blue velvet covers the roof and its pillars. The front and rear seat belt slots are out of the ordinary, as well, composed of glass pearl finished/treated aluminum and polished aluminum.