The success of its first unibody SUV – XUV500 – convinced Mahindra, the Indian manufacturer that appeared on the international market some years ago, that the time had come for a compact SUV as well. And here it is, the XUV300: "It has kept the DNA and the style of its older sibling", says Ramkripa Ananthan ("It's a complicated name, everyone calls me Kripa"). She is, I believe, the only woman in the world to be head of design for a big car manufacturer. "If the XUV500 was compared to a cheetah for its muscular, aggressive lines that communicate freedom and adventure", Kripa says, "then the XUV300 is the cheetah's cub."
To tell the truth, Mahindra had already ventured into compact SUVs – i.e. SUVs under four metres – but without much success. "It is a very competitive segment and we had to work quickly", Kripa explains: "Because of this, we collaborated with our sister concern Korean manufacturer SsangYong that already had that type of vehicle on the market, and with excellent results. Their Tivoli is distinguished by a youthful look and a robust platform.
We defined the brief for the XUV300 on that platform; it had to be flamboyant, to meet our customers' latent desire for power & pizzazz, and to respect our design language." The result was an SUV with an international flavour: even if, Kripa admits, "an Indian element – those who worked on it being Indian – might have remained."
The designers under Kripa included Ankur Sharma for the exteriors, Anis Ahmad for the interiors, with Jaehwa Kim and Neha Chauhan for CMF (colour, material, finish), without forgetting the SsangYong designers, from the team leader Il-Han Moon to Han-Jong Park, Misong Sin and Jung-Won Shin for the exteriors, as well as Suk-Kyun Yang, Byung-Do Kim and Hun-Sub Lee for the interiors. All of them shaped this cheetah cub together, passing directly from the first sketches and digital work to 1:1 modelling, first in polystyrene and then in clay & ureol. The optimal volumes of the SsangYong platform were modified for the Indian market needs for sub 4M length, high ground clearance, short overhangs and the formal requirements that reflect Mahindra design were applied.
"It is a fast, agile car, that maintains a familiar feeling with the XUV500: it has a high waistline, sculpted muscle over wheel arches, distinctive light units connected by vertical grill that is accentuated by well crafted metal-ised studs, but also powerful motors and high-tech detailing. And, above all, it reflects a high degree of quality, especially in the interiors." This aspect involved not only design, but also materials, Kripa explains: two tones that create a strong sense of chromatic contrast, black in the upper part and light beige in the lower part, high gloss black with luminant silver decorative elements. "It is an excellent result, a sense of luxury in this segment that is not very premium."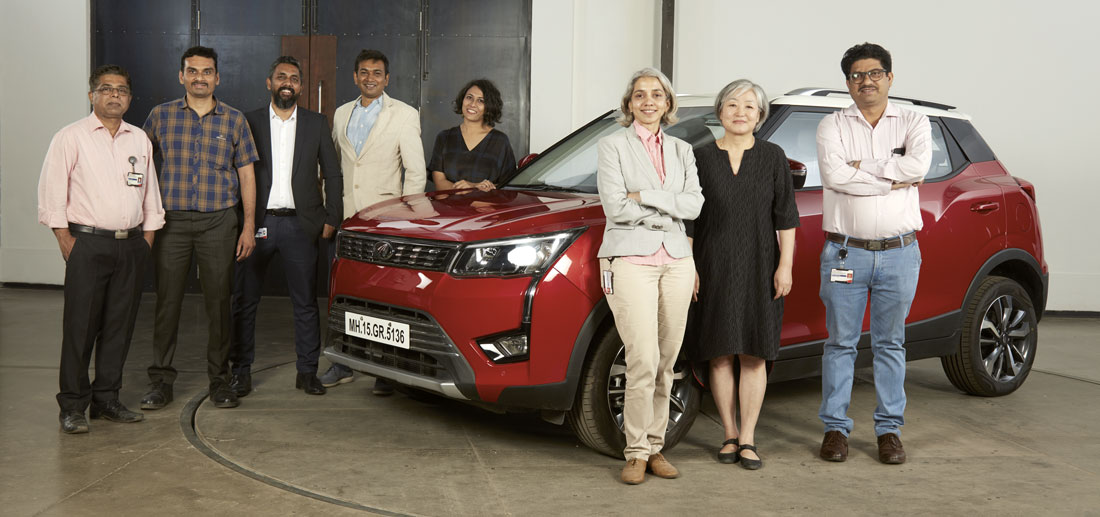 Mahindra design team standing, from the left, Devasish Shyam (Principal Engineer, Studio), Subhash Patil (Senior Clay Modeller), Anis Ahmad (Principal Designer, Interior), Ankur Sharma (Senior Designer, Exterior), Neha Chauhan (Senior Designer, Colour & Trim), Ramkripa Ananthan (Chief Designer), Jaehwa Kim (Senior Consultant, Colour&Trim), Sunil Undirwadkar (Senior Modeller).
In the Indian market, which is currently on the decline, "The SUV segment is booming," she says. And the baby SUV, which was launched in February in direct competition with other, already established models, and in a segment already occupied by Honda, Suzuki, and Ford, "is doing very well." But if it's an SUV, why call it an XUV300 and not an SUV300? "So as not to be prosaic. The 'X' implies so many things: above all, that it is an unibody SUV or a crossover, and, then, to insist on a bit of mystery, that the SUV is sexy and intriguing. It's an SUV that loves to draw attention to itself, it has an 'X' factor."