AUDI R8, ELEGANT POWER (Auto&Design N.161/2006)

Where do we start? With Walter de' Silva's definition as "a car that is neither arrogant nor vulgar, but which stands out for its elegance"? Or with the official Audi line as "our first mid-engined sports car that combines the experience earned in countless racing victories with the innovative design and technological expertise of Audi"? However, the truth about this car can probably be read more clearly in the eyes of the thousands of spectators who tacitly voted this as one of the most beautiful new models presented at Paris.
Low and short, but wide enough to look purposeful on the road, from whichever angle you look at it the R8 "looks like it is tensing its muscles in readiness – they say at Ingolstadt – like a sprinter on the starting blocks". The car was developed from the Le Mans prototype of three years ago "but without betraying any aspect of the original concept", adds De' Silva, director of design for the Audi Group: "The car has been redesigned and refined to express sports character, technology and elegance." De' Silva places emphasis on the final word: "Elegance is a concept that I am convinced is set to slowly make a comeback even in this sector. Indeed the great masters – Pininfarina, Bertone and Giugiaro – have always made extremely elegant sports cars. Today there's a little too much overstatement.
Audi culture, however, demands an ability to create detail and quality in every element. Whereas I like sculpted but clean cars. Our models today – and the R8 is no exception – are identifiable by their overall formal cleanliness and a bold personality, especially from the front. There is a lot of 'Italianness' in the R8 and much emphasis on volumes and surfaces. I also hope that I have put some of my own personality into the car." Mid-engined cars are generally inspired by motorsports. "This is the first that my team and I have ever designed – remarks De' Silva – so we also had to make a conscious effort to steer clear of these conventions. Gaping air intakes and lots of strained references to racing? No, there was no room for all this on the Audi R8. The merits and performance of the car lie in its engine, the exterior had to express elegance and class. This is why, paradoxically, there is no correlation with the racing Audi in terms of design.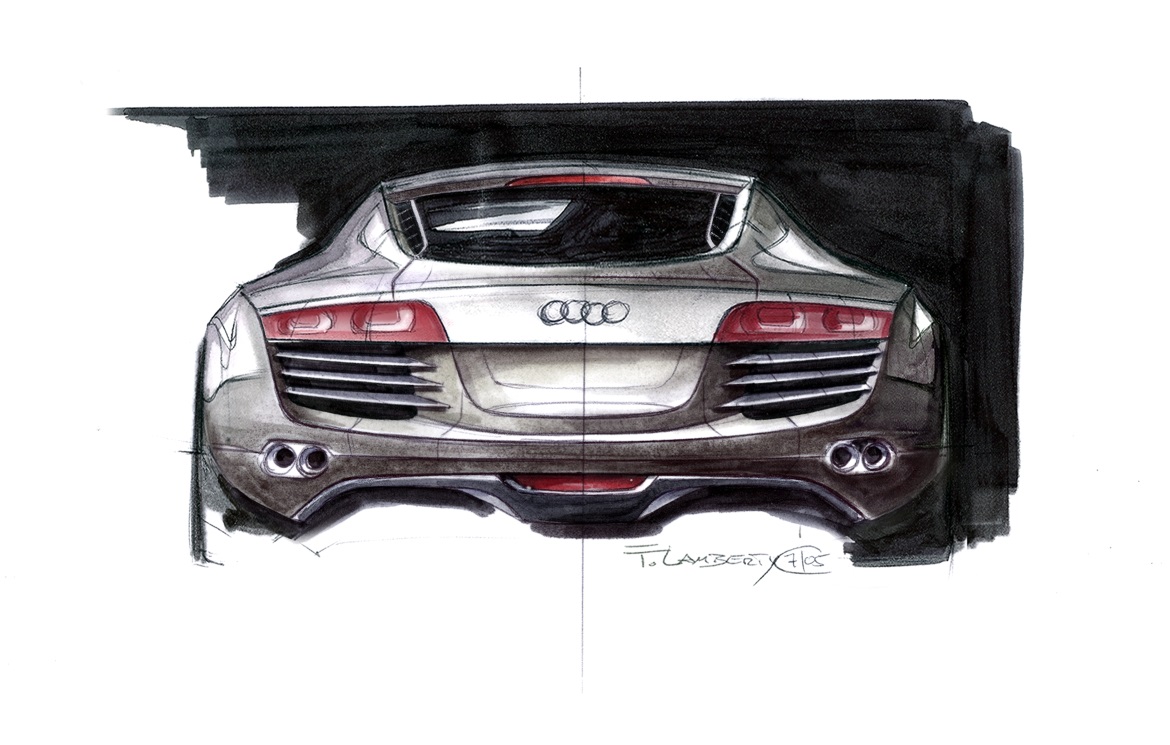 Leather and Alcantara dominate an interior structured around the driver in a philosophy of form following function: that's not to say, however, that it is as spartan as a race car, but, rather, that it is defined by linearity and simplicity – with the exception of the carbon fibre inserts echoing the styling of the exterior. "We could not leave out an element of comfort", explains De' Silva, "as we believe that the R8 is a car to be driven every day, not just on the weekend. Two suitcases can fit in the front luggage compartment, along with a suit bag and a shoe case. Two more suitcases can fit behind the seats or – to cater for the American market – two golf bags." Much painstaking work has gone into the details, and alongside De' Silva on the project were Gert Pfefferle, Audi design director until a few months ago, … Lamberti for the exterior, Carsten Monneryan for the interior and Andreu Sola for the lights, wheels and engine bay. Is De' Silva happy with the results? "If I were to put the R8 next to the original concept, I'd actually say that it looks even better", answers de' Silva.