How will the station wagon evolve in the future? Opel, the company at the top of the European sales charts for this type of car, asked itself the question and, to give a tangible response, its design centre has realised Signum, a research prototype that looks to the future of the upper-segment station wagon.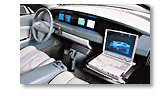 Surveys conducted by Opel in the European wagon segment revealed that the public expects new content in this kind of car going beyond the usual benefits of space and practicality – features by now taken for granted in the station wagon. In particular, in the large sector, the surveys indicate growing demand for content better suited to new lifestyles that combine professional activities, family, sport and leisure with the demands of mobility and communication.
"The brief we set ourselves for the Signum took all of these demands into account," explains George Gallion, vice director of Opel design. "Besides the futuristic definition of the station wagon theme, another objective we set was the search for a new Opel form language that expressed the styling of forthcoming products, in particular the new Astra that will debut at the Frankfurt show."
The initial phase of the project took place at Opel's Technical Development Center in Rüsselsheim, then the project transferred – along with a team of designers and engineers – to Italy and Stile Bertone, where the rest of the development process was carried out as far as construction of the full-function prototype.
To emphasise that the real-world intentions of the Signum go beyond a simple styling exercise, the prototype was also assigned the task of experimenting and developing a series of technical and mechanical aspects such as the adoption of front-wheel drive – a feature increasingly accepted by the public in upper-segment saloons.
The Ecotec 3000 cc turbodiesel V6 with 4 valves per cylinder and common-rail direct injection made its world debut on the Signum. The Advanced Engineering specialists at Opel's Technical Development Centre who developed it estimate its 175 bhp output will bring a top speed of 230 km/h with average fuel consumption of 6.6 litres per 100 km.
The gestation period of the Signum was extremely brief: just five months from concept to prototype construction. "The designers had two weeks to present their 1:3 scale proposals," recalls Gallion.
"The chosen model was then prepared for digitising in order to be milled full size in plaster. Eight days were spent modelling one half which was then doubled over." A lengthened and widened Vectra floorpan was used as mechanical base for the construction of the prototype. Starting out from a package that favours a long wheelbase (293 cm, 20 cm more than the Omega Station Wagon) and reduced overhangs, the body was defined with short bonnet, steep windscreen and a tailgate dominated by the extensive use of glass.
The connotations of the Signum are strong, simple but marked, with a front end dominated by the trapezoidal Opel grille – highlighted by bonnet feature lines and its setting in the bumper moulding – and headlamps of elongated shape. The wedge-shape profile is reinforced by slim pillars at the front, more robust ones at the rear, the latter set into the broad 'shoulders' modelled around the taillights."
To define the interior design," continues George Gallion, "we looked for a style that harmonised with the formal language of the exterior, meaning sweeping curves, taut surfaces and smooth transitions." The brief also stipulated that the prototype should have significant electronic hi-tech content, prompting reconsideration of the dashboard and the traditional layout of the controls. "We decided to clean up and simplify the dashboard visually to make it more driver-friendly."
L'articolo continua su Auto & Design n. 105