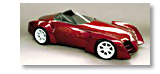 The big news at this year's Frankfurt show was the launch of the Mercedes-Benz A-class. Which was also big news at Coventry University's School of Art and Design, as we discovered when we spoke to David Browne for our annual update on activities there.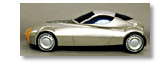 The school's chief of Industrial Design was very happy to explain how one of his students, Steve Mattin, had helped design the A-class exterior, going directly from Coventry to the Mercedes studios after graduating in 1989. More than just a stroke of good luck, his achievement reflects the importance of the internships – a five-month industry placement – which form part of the school's Master of Design course.
Steve had done his internship with Mercedes and, at final show time, a company representative persuaded him to go straight to Sindelfingen rather than embark on a post-grad course. The rest is automotive history. Interesting, too, to note that the Coventry school has recently been featured in two motoring programmes on rival British TV channels.
As David Browne confirms, this reflects a growing awareness of design among the general public and a desire to find out "how it works" – an encouraging development that is positive for both the school itself and the profession in general. As usual, this summer saw the latest crop of graduates put their final-year projects on show at the Museum of British Transport.
Although a glance at our selection immediately reveals a tendency towards certain recurring typological details (such as lengthy bonnets or exposed wheels), these were not the outcome of a brief imposed by the school, but, more interestingly, represent current trends as interpreted by the students or quite simply the kind of car they themselves would like to see on the streets.
The M.Des course at Coventry includes significant research and research-writing content. On returning from their internships, each student prepares for the final year by compiling a project development book which, after being submitted to their tutors for approval, determines each stage of the design process all the way from initial brief to finished 3D version in time for the final review in June.
The article continues in Auto & Design no. 106
Click edit button to change this text.