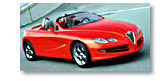 Straight to the heart, like an arrow. This is the Dardo, a striking Alfa Romeo based concept car presented by Pininfarina at Turin. "People go to motor shows to see the cars they do buy and to dream about the cars they can't buy."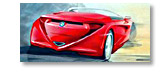 The premise of Lorenzo Ramaciotti, director of Pininfarina R&D, confirms that our first impressions were right: the rationale of the Dardo is precisely to attract, to astound and to fuel fantasies. With its lengthy research experience, Pininfarina also has many more 'rational' concepts with high technological content to its credit such as the Ethos triptych and the compact Eta Beta shown at Turin two years ago.
This time however – as was the case with the Argento Vivo, presented at Tokyo in 1995 – a theme was chosen that gave free rein to the designers' creativity and at the same time offered an opportunity to experiment with new aesthetic solutions. "The initial idea was to do a design exercise on a strong make like Alfa Romeo, back at the top following the enormous success of the 156.
The theme we chose – the open-top sportster – was perfectly in line with Pininfarina tradition," says Ramaciotti. Collaboration between the two companies dates from the 1930s and since the early 1950s all production Alfa Romeo roadsters have been created by Pininfarina. "The Dardo isn't a new Giulietta – it's a much meaner car – but you could consider it the ideal continuation of the roadsters we have designed for Alfa, from the Giulietta cabrio to the Duetto and the current Spider".
The Dardo project was completed in a very tight time span. No sooner was it established that Fiat was not going to invite the coachbuilders' interpretations of one of its production cars (as it had for the Turin shows of 1992, '94 and '96 with the Cinquecento, Punto and Bravo/a), Pininfarina immediately started on research work for a study of its own. "Of course there was interest from Fiat, which wants to know about exercises performed on its makes so that no confusion arises. They were happy to accept our proposal, and made no objections," says Lorenza Pininfarina, chief of public relations for the company.
The definitive orientation was immediately selected from the early sketches: a dynamic and aggressive design with no particular references to the past. "With each Alfa Romeo roadster, we have turned a new page. There's no stylistic continuity from the Giulietta to the Duetto, or from the Duetto to the new Spider," explains Ramaciotti. "So we didn't feel particularly constrained by the past and we created a car with strong Alfa Romeo connotations by developing the repeated triangle theme."
The article continues in Auto & Design no. 110