MILA Plus is an innovative plug-in hybrid two-seater concept combining sophisticated lightweight construction and a highly intelligent alternative drive system. Created in Austria by Magna Steyr Design, it is sporty and emotional yet eco-friendly, with a variety of recyclable materials. The dynamic hybrid could feasibly be ready for the road by 2018. "The key message is that performance and sustainability can all be combined into one superbly emotional vehicle concept," explains chief designer Andreas Wolfsgruber.
The idea behind the MILA family of showcars is to demonstrate what Magna is capable of and to send a message to car manufacturers that Magna can assist them in their programmes involving, for example, CNG, hydrogen technology or all-wheel drive systems. MILA Plus was born in the context of a low-investment, cost-effective mid-engined sportscar with excellent performance, efficient hybrid technology, lightweight materials and captivating styling.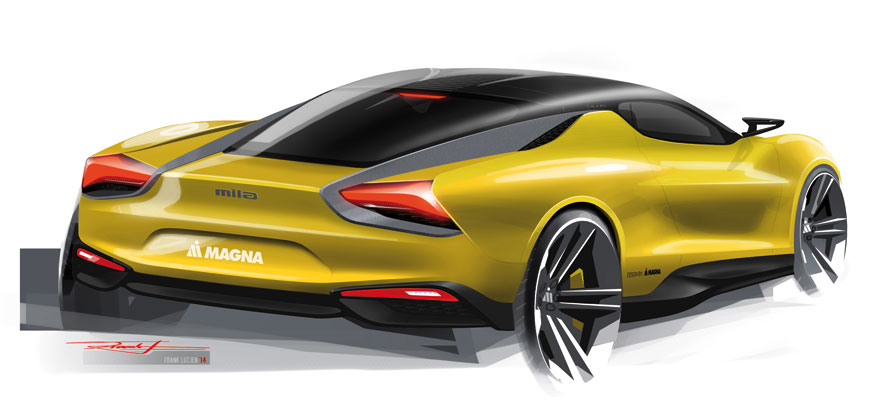 The design team was asked to produce a range of themes. Some of the most promising were developed further, until one by Frank Luetjen was chosen. He then created a 1:4 scale clay model in order to hone the ideas from his sketches into a cohesive form. The model was scanned and team members Tim Doherty, Alex Kirnbauer and Mike Storey helped to bring the concept to life. "The inspiration for the car's athletic muscular shoulders came from Olympic sprinters and swimmers – explains Wolfsgruber – while the clean and fluid shapes are reminiscent of water droplets on a leaf. The car's face features an iconic "Double C-shape" and a friendly smile, while a panther's eye inspired the shape of the daytime running light." The sail-like roof, with a silhouette like a springing lynx, is visually disconnected from the body, representing lightweight technology.

The "Cam-wing" visually shortens the hood to emphasise the mid-engined layout and lends the car something of an aeroplane feeling. The motorsport-inspired b-pillar fin symbolises the driver-focused mid-engined layout, like the silhouette of the driver's helmet and top air intake of a Formula 1 car. Also, the windscreen is reminiscent of a racing visor. Straight lines on the side of the car are like modern architecture, denoting solidity. These lines rise and diverge slightly towards the rear of the car, enhancing its dynamic appearance.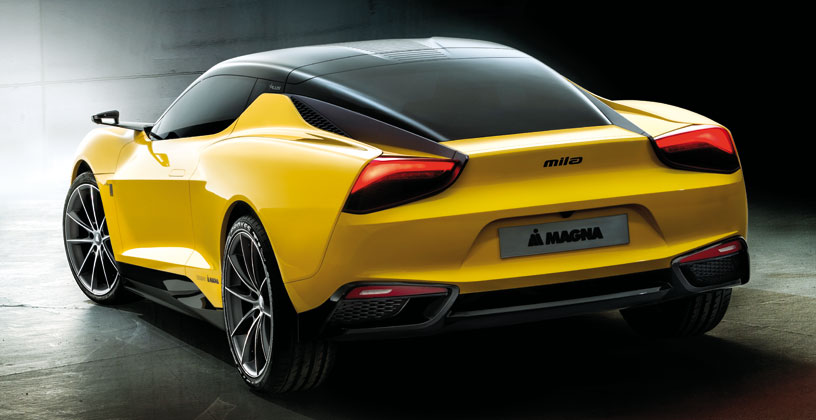 "The aim of creating this highly emotional sportscar study was to show an eye-catcher at Geneva," says Andreas Wolfsgruber. "Through the intriguing design-language the attention is also brought to the technical concept, involving a large number of innovative Magna components." It could be built using cost-effective manufacturing methods, with an engine from any of the major manufacturers.
The spaceframe is alumininium, joined by bonding rather than welding. The integration of the battery inside the frame lends the structure greater stiffness, and the multi-material body-panels were also made with weight reduction in mind.
The article continues in Auto & Design no. 212