The second generation of Toyota's ground-breaking PHEV (Plug-in Hybrid Electric Vehicle), the Prius Plug-in Hybrid, makes its world debut at the 2016 New York International Auto Show.
An evolution of the responsive, intuitive and remarkably quiet hybrid drive system already available on seven other Toyota models, the new Prius Plug-in Hybrid builds on the strengths of the latest generation standard Prius, the latter itself developed with a focus on three key pillars: the Toyota New Global Architecture (TNGA)-based platform, design and styling, and a new, full hybrid system.
The Prius also features a Toyota-first dual motor/generator drive system, which uses both the electric motor and the generator to produce drive torque, helping boost both acceleration and overall performance. The new PHEV system further minimises engine use, even when accelerating quickly or using the heater during winter months, through the adoption of a battery heating system to improve cold weather efficiency, and the world's first heat pump air-conditioning system with gas injection. As a result of these advanced technology enhancements, the new Prius Plug-in Hybrid offers uniquely responsive, class-leading acceleration, will drive at significantly higher speed of up 135 km/h without leaving EV mode, and offers drivers an EV range of over 50 km; approximately twice that of its predecessor.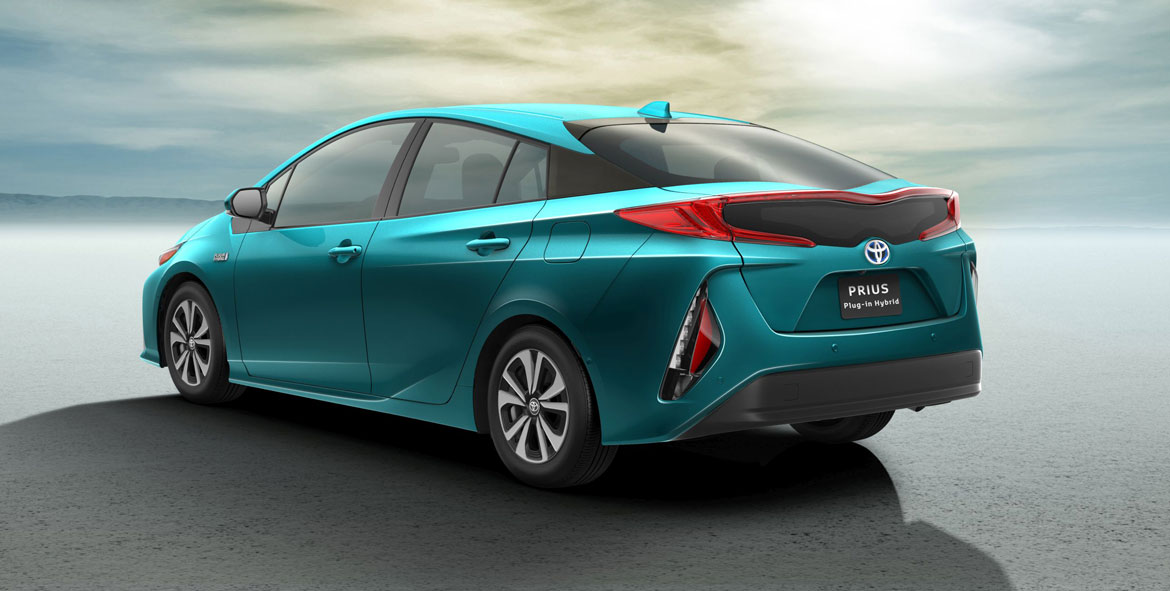 To achieve better handling with more direct response, the front MacPherson strut suspension has also been revised. Its chiselled profile and edgy character lines giving it an even more road-hugging stance and a lower centre of gravity, the new Prius is 165 mm longer, 15 mm wider and some 20 mm lower than its predecessor. The new TNGA platform has given the designers a freer hand to craft a car that has richer visual appeal, with lower lines overall and a more athletic profile.
The cabin design is advanced, functional and has a powerful visual impact. It inherits the intuitive concept of previous Prius generations by consolidating operational functions closest to the driver and placing the information functions further away. The dominant centre cluster has a 'floating' design, created using a sculpted and near-invisible rear mounting. The 8″ touch-screen allows intuitive operation of the audio and navigation functions, including 'flick' actions to scroll through the displays. External advances unique to the new Prius include energy-conserving four lamp LED projector headlights featuring unique, vehicle speed-sensitive adaptive beam technology. First demonstrated on the 2010 Auris Hybrid concept, an all-new solar roof charging system equipped with a dedicated battery makes a world-first appearance in the new Prius Plug-in Hybrid. Unique to the Prius Plug-in Hybrid, the system is the world's first to employ a heat pump with gas injection. This allows it to cool or heat the cabin when the vehicle is operating in EV mode, without the engine running.