Volkswagen is extending its model range by adding a compact-class crossover: the T-Roc. The design of the T-Roc follows a new expressive Volkswagen SUV DNA. It brings authentic off-road elements into harmony with dynamism and urban style. The T-Prime Concept GTE presented in 2016 already offers a foretaste of another new SUV with this design DNA. Essentially, the design of each new Volkswagen SUV will be interpreted individually based on this DNA.
"Volkswagen has created another authentic SUV with the new T-Roc. This car shows its underlying dominance. At the same time, however, in launching this crossover we are also bringing a very expressive design, even "sassy" to the streets. This emotional component makes it likeable. The T-Roc is therefore equally well suited for the urban world as it is for great adventures. For me, the T-Roc is an SUV milestone. It enriches the segment with an entirely unique and sporty style", said Volkswagen Head of Design, Klaus Bischoff.
Charismatic design elements create T-Roc styling that is both confident and expressive. In front, these elements are the wide radiator grille unit with integrated dual headlights. The top versions of the headlights use LED technology, while the headlight housings have an extremely low-profile design. This was enabled by separate housings for the turn signal, the daytime running lights and the cornering lights in the bumper. The repositioned light signature makes the T-Roc unmistakable at night as well. The lines of the long, extended side profile are especially influenced by a distinctive chrome element. It is a standard feature that upgrades every version of the T-Roc, extending from the A-pillars over the entire side roof line and into the C-pillars. The latter are swept back, as on a coupé, and have the visual look of a Targa bar in a longitudinal direction. The consistent, horizontal layout of the rear body is structured over three levels.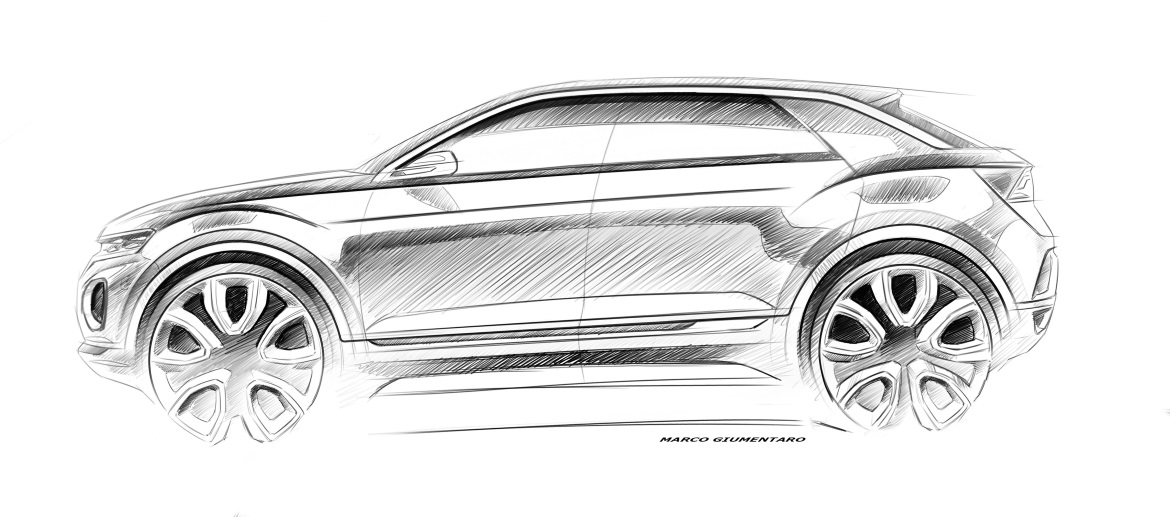 The form and function of the T-Roc interior has been redefined for the era of digitalization. A conceptual highlight here is the integration of increasingly digitalized display elements and controls. With regard to the ergonomics of controls and their visibility, the goal was set to design all on-board elements to be as clear and intuitive as possible. At the same time, the charismatic and independent interior design – with its SUV image that is both confident and rugged – forges a link to the exterior design and its contemporary treatment of surfaces.