With a sleek, aerodynamic silhouette, the Lincoln Star Concept debuted to preview the styling language of the American brand's upcoming electric vehicles. Inside and out, the Lincoln Star concept introduces a new styling language that will guide the pencils of designers in the creation of upcoming models: by 2025, the American manufacturer will introduce three new electric vehicles. "The Lincoln Star is a study of experiences and themes that push the boundaries of Lincoln design – and it's just the beginning," said Anthony Lo, chief design officer of Ford Motor Company.
The silhouette is sleek and dynamic and is expanded to create a striking effect. Whether stationary or in motion, the concept uses design, light, displays, scent and sound to create an immersive experience for customers. Designers worked to create harmony by using light in a new way. "Electrification is removing many of the design constraints of traditional vehicles, allowing us to reimagine what a vehicle can be," Anthony Lo continues.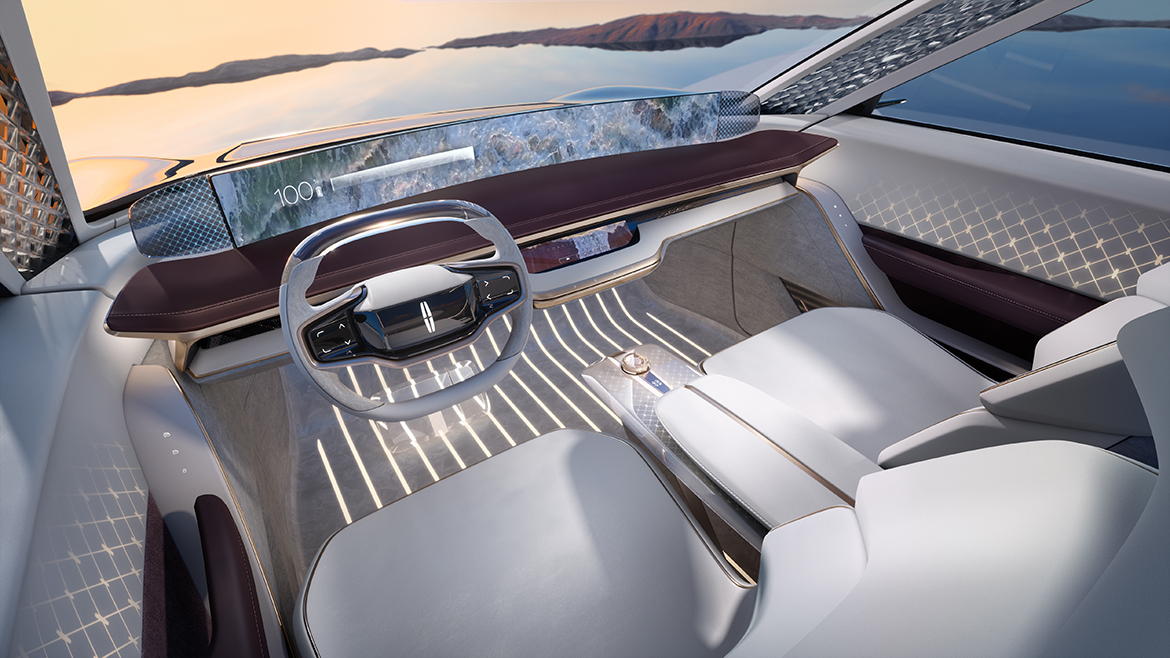 In both design and color composition, the interior is divided into two separate areas for the first and second rows of seats, both of which consist of wraparound, spacious seats that can change their position and rotate, turning the Star's interior into a true luxury lounge-like living room. At the rear of the seats is a glass beverage cooler.
For the multimedia part, a horizontally developed display has been dedicated that extends across the entire width of the vehicle. The designers also worked on the travel experience, offering passengers a choice of three different atmospheres. "Coastal Morning" uses gentle, oceanic sounds, a fragrance of sea mist and the soft, warm glow of the sun with dynamic lighting to simulate a walk on the beach at dawn; "Mindful Vitality" aims to revitalize the senses, with invigorating audio, abstract lighting effects, soft lighting and a floral fragrance. "Evening Chill" mirrors the sunset using a relaxing nighttime soundtrack along with a video of the night sky and an evergreen fragrance.