This could be an epochal change in direction for DS, which has been a brand in its own right, separate from Citroën, for over a year. According to DS brand design director Thierry Metroz, the e-Tense concept presented at Geneva is "not a gratuitous styling exercise but a hypothetical vision of the future" – by which he means production future. "Our concepts, and I'm also including the Divine presented in 2014, create and nurture a dream, contribute to building the story of the brand and sustain its values."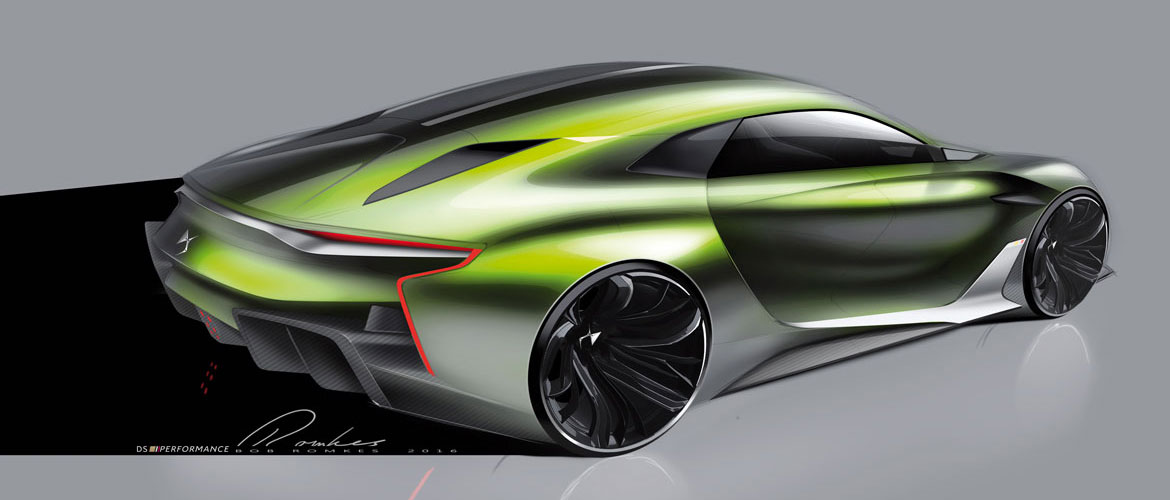 Metroz calls the e-Tense a "strategic car" for three precise reasons: "Firstly, the direct link between the concept and future production models. Second, its connection with technological evolution: it is an electric supercar, so it's a test bench for DS Performance, which will manage the systems of all of the brand's high performance models, including those with innovative drivetrains derived from Formula-E cars and from our work with some of our partners for hybrid and electric technology. Third, it shows how we're pushing harder for refinement, from the production of patina finish leathers to the parametric design of the dashboard, and with both high precision and hand-crafted elements."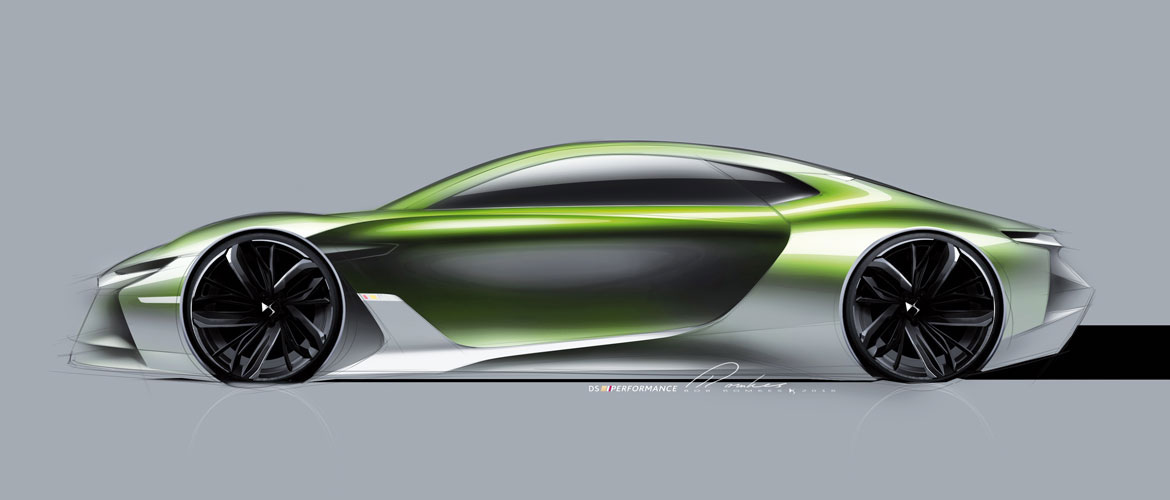 As emphasised by Olivier Desserprit, project manager for this concept: "This is not a showcar but a real automobile expressing the ambitions of DS. Our future projects will feature elements and styling cues embodied in this fascinating sports car".
The DS Performance badge on the bonnet of the e-Tense also hints at its high-tech spirit. With a carbon fibre monocoque (visible, however, only in functional areas), the car is 4.75 m long, 2 m wide and 1.30 m tall. Power is from two rear-mounted Siemens electric motors producing 400 bhp and mated to a seamless-shift three-speed transmission. The car weighs 1800 Kg and has a range of 300 Km, while the 20" 305×35 tyres are a clear declaration of serious performance. The design project was headed by Bertrand Dantec, who was assisted in the task by Bob Romkes (exterior), Pascal Grappey (interior) and Vincent Lobry (colour and trim).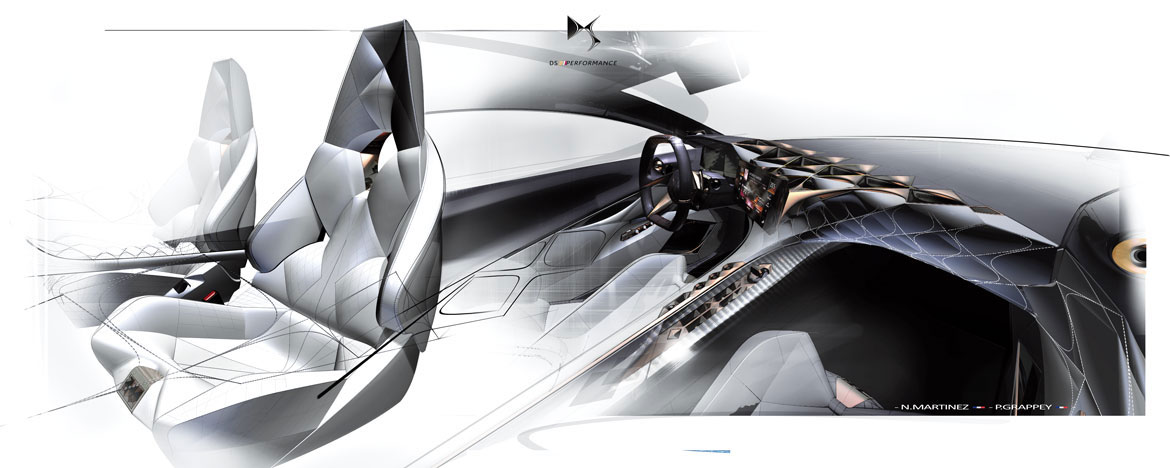 "Together with the Divine", explains Dantec, "this concept illustrates the keys to our styling language for the coming years. Parametric design was a great help, as it lets us create 3D printable forms that would have been impossible before, such as the completely uninterrupted grille and many details of the interior. It opens up a whole new artistic universe." "We focused particularly on movement, on the wheels and on the face with its double wing motif", adds Romkes, "but there are also familiar styling cues, such as the shark fin from the DS3 behind the front fenders."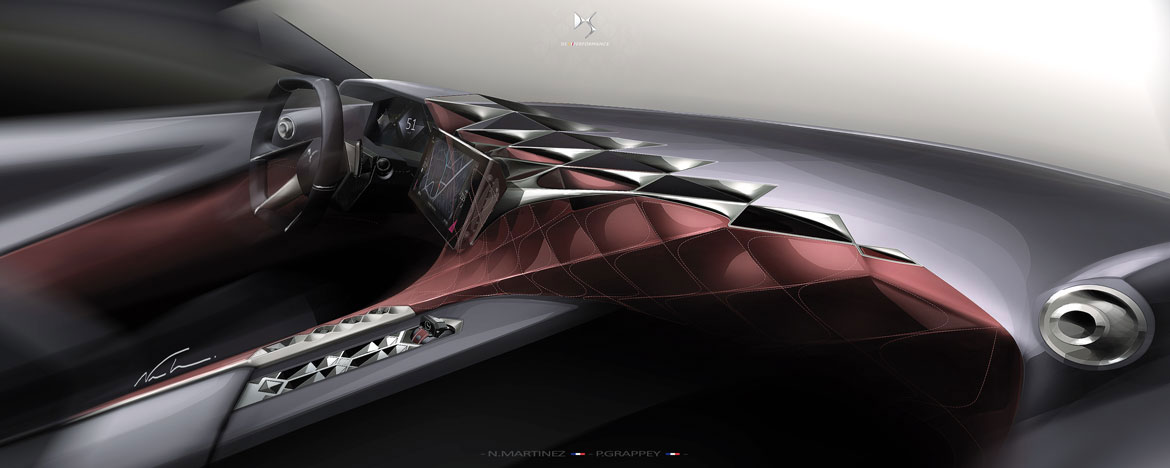 The car's light signature – in other terms the design of the lights – was created by Nicolas Deluy: "These are like genuine gems", he explains, "the headlights consist of two banks of four units, each one of which capable of pivoting a full 360°. "This will be one of the first innovative solutions to be applied in production DS models. You can't help wondering, though, if the e-Tense is just a test bench, or if it could spawn a production supercar at some point in the future. But at Vélizy, where Auto&Design was invited for an exclusive viewing of the design centre (and then on to the coachbuilder Estival to see the final preparations of the concept for Geneva), everyone's lips were tightly sealed. "While this is not a teaser for a specific car", says global brand development director Eric Apode, "the powertrain prefigures certain future products very explicitly." "This is a one-off", says Desserprit, "but if everybody should really want one…".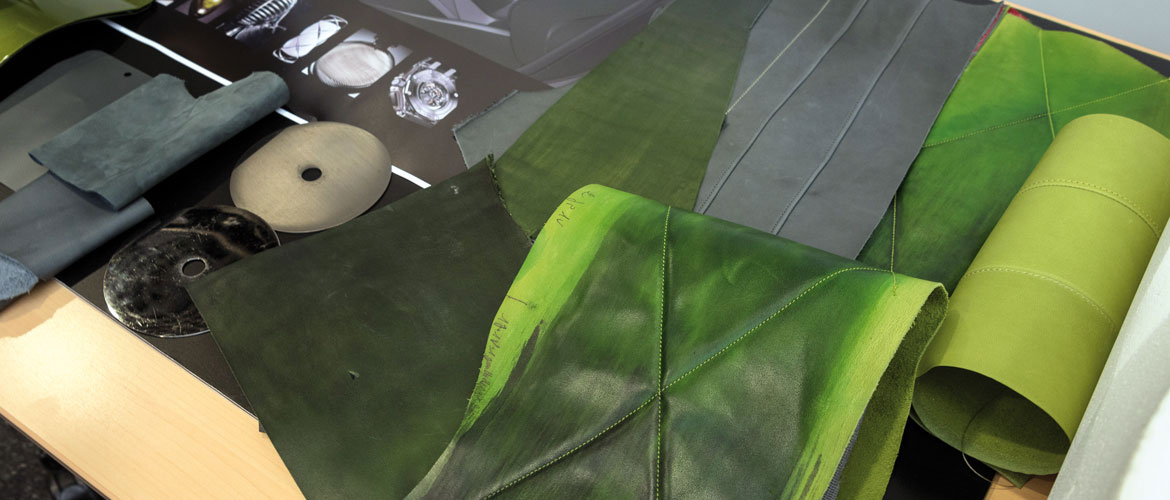 Full article in Auto&Design no. 217